2015-2016 Catalog
[ARCHIVED CATALOG]
Nursing - Registered Nursing (RN), AAS (ADN)
---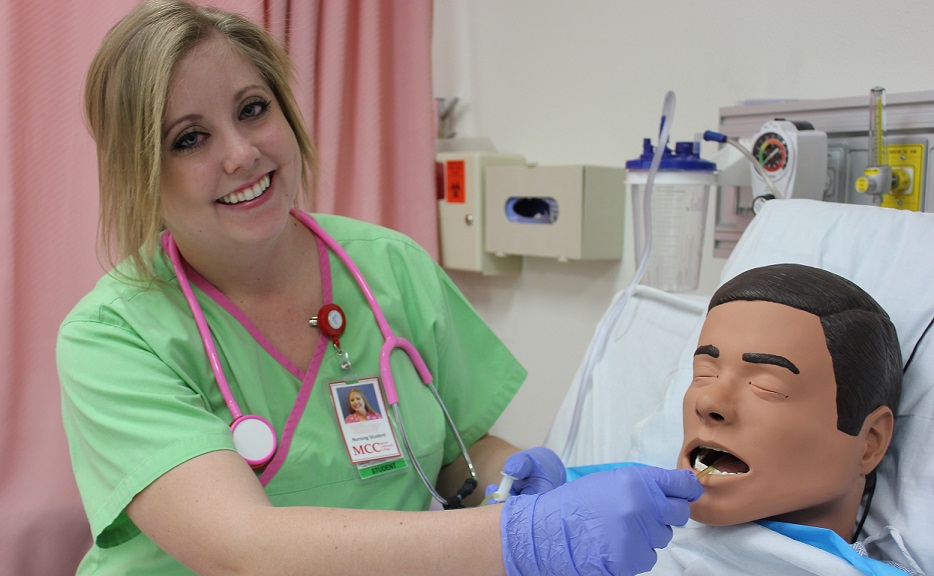 The Associate of Applied Science in Registered Nursing (RN) is designed to prepare the student for a career as a Registered Nurse. Upon satisfactory completion of the program, the graduate will be prepared to take the national licensure examination for registered nurses. The program is approved by the Arizona State Board of Nursing and accredited by the Accreditation Commission for Education in Nursing (ACEN). Students wishing to transfer to four-year institutions will have the academic foundation to earn a Bachelor of Science in Nursing with concentrations in nursing including neonatal care, cardiac care, surgical nursing, and advanced programs for nurse practitioners. For more information regarding the Nursing - Registered Nursing (RN), AAS, see the Nursing webpage.
Note: A majority of students will be required to travel to Las Vegas, Nevada, for a portion of their clinical experience. Students may be required to attend mandatory training/orientation at various clinical sites or the Nursing Department laboratory before the official opening of the summer session. For a course to be eligible for transfer, the student must receive a "C" or better. Acceptance of a transfer course is determined by the receiving institution.
Prerequisite Requirements
Student must be a graduate of an accredited high school (or hold a GED certificate), be 18 years of age or older, demonstrate evidence of potential success in the community college, and/or be a transfer student in good standing from another college or university.
Student must successfully complete (with a GPA of 2.0 or higher) one 100-level chemistry course and one 100-level biology course. Acceptable college courses are:

Choose one BIO option from the following (0-4) credits:

Successful completion of Biology Competency Exam Credits: (0)
BIO 100 - Biology Concepts with Lab

 

 Credits: (4)
BIO 181 - General Biology I (Majors) with Lab

 

 Credits: (4)

CHM 130 - Fundamental Chemistry with Lab

 

 Credits: (4) or CHM 151 - General Chemistry I with Lab

 

 Credits: (4)

Student must successfully complete (with a GPA of 2.85 or higher) all prerequisites for NUR 121 - Nursing I

 

 Credits: (8) including the following courses (one of the 200 level BIO courses may be used to meet the requirements in 2.A above):  
Student must have an acceptable score (70) on the Test of Essential Academic Skills (TEAS). College courses over ten (10) years old will not be accepted as credit for biology, chemistry, or general education science requirements.
Student must present a copy of a valid Department of Public Safety Fingerprint Card.
Note: College courses over 10 years old cannot be accepted as credit for biology, chemistry, or general education science requirements. Extra consideration will be given to applicants with an additional degree earned, Arizona residency, health care experience, and positive references.
Application Requirements
A completed application must be submitted for admission to the RN nursing program once the prerequisite courses have been completed. An application for admission may be obtained from any MCC campus student services specialist, at the Nursing Department (1977 Acoma Blvd. West, Lake Havasu City, AZ 86403) or online at the Nursing website. Application to the Nursing Program is not a guarantee of admission. The following documents must be submitted for the application to be considered.
Completed Nursing Application
Three Professional References
Official College Transcripts (See Admission Information Packet)
Test of Essential Academic Skills (TEAS) results
Verification of health care experience
Verification of residency
Copy of Department of Public Safety Fingerprint Clearance Card
Completion of Program and NUR 121

 

 prerequisites
Undergo a general background check (Pre-Check) as required by the clinical facility.
Requirements for Graduation
To graduate, students must pass all core nursing courses and corequisite courses with a "C" grade or better and an 85% predictability of passing the NCLEX.
Health Policy for Nursing
Upon admission to the program, students will be required to:
Sign a waiver releasing the Department of Nursing and Mohave Community College from responsibility for injury or illness resulting from exposure to disease, medicines or treatments, and sign a release of medical information.
Present evidence of two-step tuberculosis testing within the past year.
Provide documentation of measles, mumps, rubella immunizations, and a varicella titer.
Provide evidence of HBV vaccination series or declination.
Provide documentation of physical examination within the six-month period immediately prior to admission to nursing program demonstrating the student's ability to perform the essential functions of the profession with or without reasonable accommodations.
Provide evidence of a negative drug screen.
Tdap immunization must be up to date.