---

---
 Academic Advising
Advising services are delivered by both staff advisors and faculty members and are available at all campuses as well as by phone & online to support a student's academic goals. Academic advising is critical to your success, satisfaction, retention, and graduation from Mohave Community College. The role of an advisor is to help define and shape academic plans to meet educational goals by preparing academic progress plans and selecting classes. They have access to resources that will provide students with options as well as direction in various career choices. According to the students' needs and educational goals, they will assist in creating a plan to stay on track for graduation.
New Students: Advisors can help you develop an education plan for goal achievement, select your class schedule for an upcoming semester, explore majors or careers, and connect you to campus resources. Advisors will use available information (e.g., high school transcripts, assessment scores and other data) to assist you in pursuing a program consistent with your education goals and level of preparation. New students will be required to meet with an Advisor during their first semester to complete a detailed academic plan.
Continuing Students: You may enroll in courses for which you have completed the prerequisites without an advisor's signature. However, you must meet in-person, online or by phone with an advisor if you:
Select courses for which you have not met prerequisites.
Change your degree, major, or catalog year.
Need help to review your academic progress.
Plan to transfer to a university.
Experience academic difficulties.
Have completed 30 credits towards your degree.
Have completed 16 credits towards your certificate.
Note: Students can view their Degree Audit online on the JICS/myMohave system under Advising Tools. The Degree Audit is a computerized advising tool that details the requirements of the student's program of study. The Degree Audit outlines progress toward academic goals; courses completed at MCC, transferred courses and awarded credits. Student GPA is also computed. Please contact a local campus advisor, advising@mohave.edu or MCC Connect for more information.
Succeeding at MCC: You are responsible for knowing the degree requirements and for ensuring that the courses in which you enroll will meet those requirements. To gain a total college experience, you are encouraged to familiarize yourself with MCC services, activities, and resources. You should become familiar with the class schedule, the college catalog, and the Student Handbook . You are also encouraged to participate in programs, classes, and activities that help you develop and grow academically. MCC faculty and advisors, as well as family and peers, can all be valuable sources of information on how to succeed in college. For more information regarding academic advising and additional related resources, visit the Advising webpage and/or call MCC Connect.
---
 Bookstore
Textbooks, required course supplies, and MCC apparel/merchandise may be purchased through the online MCC Bookstore from any computer. For more information regarding the bookstore, including order placement assistance, please visit the MCC Bookstore webpage or call MCC Connect.
---
Bursar's Office
The Bursar's Office provides and assists students with student accounts and management information. For more information regarding billing, payment plan, Bighorn Card, BankMobile accounts, 1098-T tax information, and AR holds, see the Financial Information  section of the catalog, visit the Bursar webpage, and/or call MCC Connect.
---
Disability Services
The mission of the MCC Office of Compliance in offering disability services is to empower students with disabilities to succeed by facilitating equal access through accommodations and advocacy. MCC Office of Compliance is the department designated to facilitate services and resources for eligible students with documented disabilities. Disability is defined as a physical or mental impairment that substantially limits one or more major life activities. Each campus student services office offers assistance to coordinate disability accommodations and referral services for students with documented disabilities.
MCC Office of Compliance:
Maintains documentation related to a student's disability and student accommodation requests.
Supports and assists students with disabilities.
Uses student provided documentation to determine if a student is an individual with a disability eligible for reasonable accommodations.
Facilitate reasonable accommodations.
Ensures that Mohave Community College is ADA compliant in both real and virtual environments.
Maintains confidentiality of all disability records.
Note: Mohave Community College does not provide personal assistants, eyeglasses, hearing aids, other devices of a personal nature, nor transportation.
Students who feel they may qualify as an individual with a disability must self-identify and provide appropriate documentation to MCC. Without appropriate documentation, no accommodations can be provided to the student. The college may require up to six weeks' notice to provide disability related accommodations.
In order for a student to receive accommodations, students must register with the Office of Compliance every semester. If a student is registered for MCC classes but has not completed an accommodation request, they are not eligible to receive accommodations. Students who have completed the application process for disability services may complete the Accommodation Renewal Form located at Disability Services or visit an advisor to renew services. For more information and additional related resources, visit the Disability Services webpage, the Student Handbook, and/or call MCC Connect at 1.866.664.2832.
---
Financial Literacy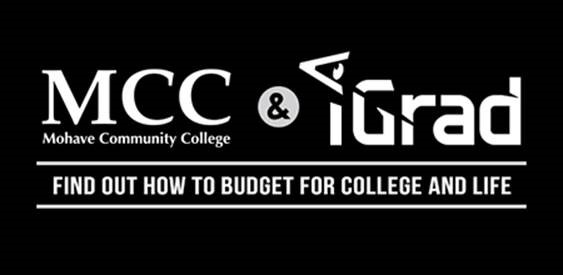 Learning how to effectively manage your money is one of the most important skills you will ever learn! iGrad can help develop personal financial skills like budgeting, money management, building credit, managing student loans and paying off debt. For more information regarding available services, including how to set-up a free profile, please visit the Mohave Community College iGrad webpage, the Financial Aid webpage, and/or call MCC Connect.
---
Library Services
A MCC library is located on each campus and supports the academic programs of Mohave Community College. Each campus library is open to students, faculty, staff, and community members. The MCC Library offers online access to scholarly resources, including article databases and eBooks. Each library also maintains a physical collection and provides services including one-on-one research assistance, scheduled research instruction sessions for MCC classes, and access to materials from libraries around the country through interlibrary loan (ILL). For more information regarding library business hours, collections, and services, visit the MCC Library webpage and/or call MCC Connect.
---
Student Life
MCC offers many opportunities for student growth outside the classroom. To get the most out of college, students are encouraged to participate in the cultural, social, enrichment, and recreational activities offered. The MCC community believes that every student deserves to be respected and celebrated for who they are. Potential students are encouraged to visit a campus and learn what it truly means to be an MCC student. Students are encouraged to get involved and see how Student Life on each MCC campus can help you learn and succeed.
The goal of student life is to provide students with the total MCC experience. The MCC experience means supporting student learning opportunities, leadership, involvement, and creative expression both in and beyond the classroom. For more information regarding student organizations, intramural sports, student leadership and service, and the Student Activities Council (SAC), visit the MCC Student Life webpage and/or call MCC Connect.
---
Student Support Program
A student assistance program is available to all students who are in need of assistance in addressing personal issues that affect their well-being. The program's provider, Deer Oaks, offers 24-hour, seven days a week access with services that include telephonic and online counseling. In addition, students can also login to a dedicated website with access to live chat (LiveCONNECT), in-the-moment counseling via an online counseling portal and thousands of articles and resources to support work, college, and life balance. For more information contact an advisor or call MCC Connect at 866.664.2832.
---
 Student Success Center
The MCC Student Success Center's mission is to create an environment that fosters student success through tutoring and other support programs to combat issues that may arise during a student's time at MCC. This program helps students develop the learning strategies necessary to reach their academic potential and teaches students how to apply these skills in college and in life. The Student Success Center will partner with faculty and staff to empower students to assume responsibility for their education, to be self-motivated and successful in their chosen fields of study, and to function as productive members of society. The Student Success Center facilitates peer group tutoring sessions and offers individual tutoring with a peer or instructor to promote academic success.
How Tutoring Works:
All currently registered MCC students are eligible for our FREE services.
Students may request tutoring services or be referred by an instructor or advisor. Requests may be made in person at the Student Success Center or by calling or emailing the Student Success Center.
Students are expected to keep their appointments or to call and cancel in advance.
Students should bring assignments and any other course relevant material to work on in the center.
For more information, or to participate in a tutoring session, students may visit the Student Success Center on campus, visit the Student Success Center webpage, or call MCC Connect.
---
Testing Center
Mohave Community College Testing Centers on each campus provide assessment for current students, future students, and community members. The Testing Centers also facilitate test proctoring for both paper/pencil and computer-based tests. A picture ID (valid driver's license or Bighorn Card with a photo) is required for all testing.
Services are provided for the following: placement testing, General Educational Development (GED), Tests of Essential Academic Skills (TEAS), College Level Examination Program (CLEP), WorkKeys testing, and proctored exams for other colleges. Testing services are also provided for proctoring of exams for licensure and certification. Mohave Community College Testing Centers are Pearson Vue certified. For more information regarding testing services and fees, visit the Testing Services webpage, the Admissions and Registration  section of the catalog, and/or call MCC Connect.