---
President's Welcome
---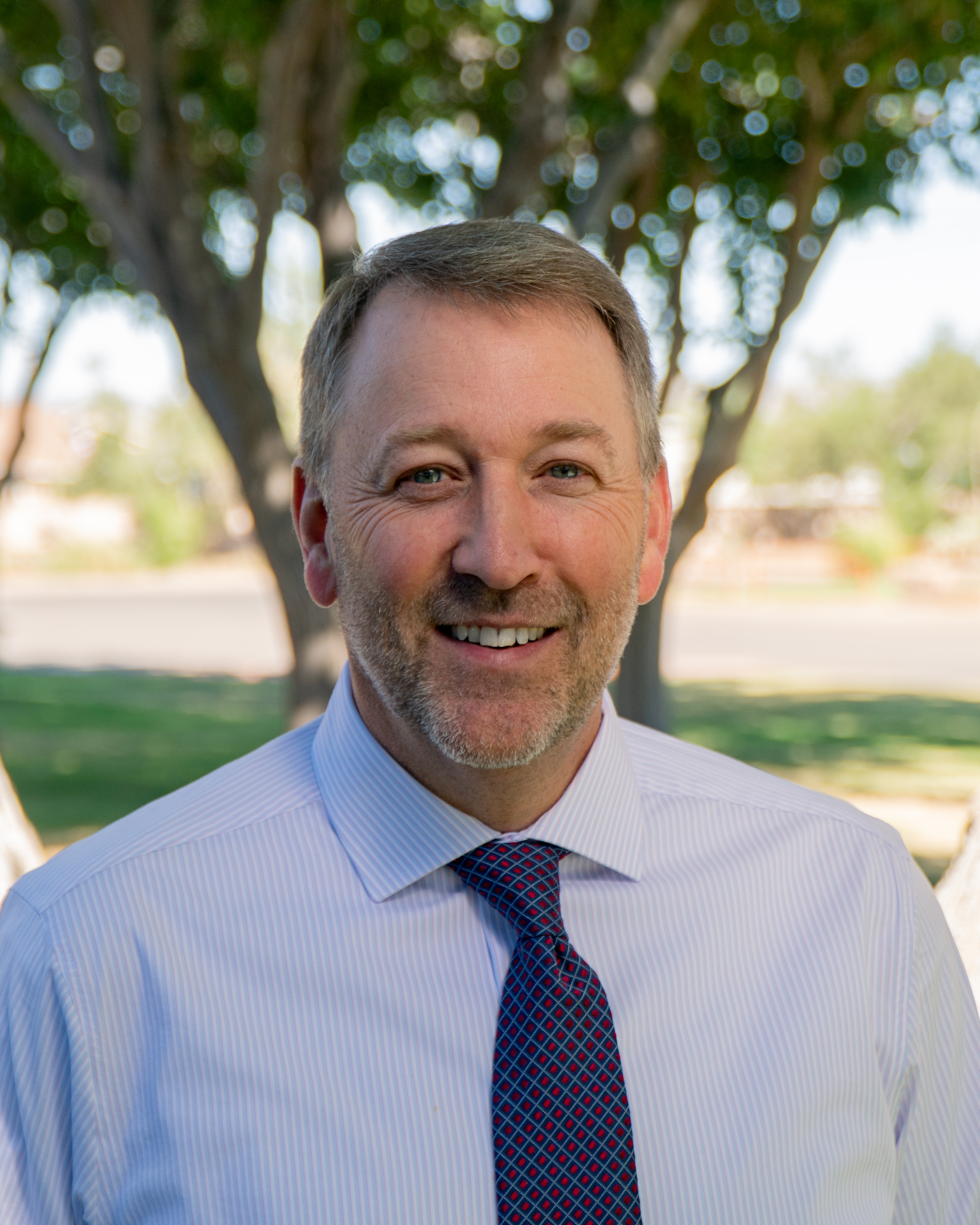 Congratulations on joining the Mohave Community College family! We are excited you have decided to become a Bighorn and believe you are making a great decision to improve your life through higher education.
Our Vision statement is: Improving Lives. Improving Communities. Bridging possibility to purpose and prosperity. With more than 60 degree and certificate programs, we have the program that will help you achieve your academic and career goals and find your purpose. Whether it be a transfer degree, an associate's or certificate in one of our many Career & Technical Education or Healthcare programs, we will help you quickly get on a desired career path.
You may decide to earn an associate's degree in art, business, or science while simultaneously completing the first two years of study toward a bachelor's degree. By starting first at MCC and then transferring to one of our university partners, you will save approximately $15,000 in tuition alone on your bachelor's degree.
MCC works hard to increase educational attainment levels in our region, and ensure everyone has access to affordable higher education. We strive to empower students to succeed through innovative pathways and quality education. When you succeed, MCC and our communities succeed.
I know college will be challenging and that is why MCC has a Student Success Center staffed with people who can help you along the way. We offer free tutoring, assistance with math, a free and confidential counseling service, and much more. Our faculty are known for their thoughtful and caring approach to teaching and learning. Take the time to get to know them and seek assistance when needed. We all are here to help you overcome obstacles and attain your desired degree or certificate.
Likewise, we have many ways to be an engaged student, whether it be through club participation, student government, or attending one of many activities our Student and Community Engagement team offers.  This allows you to meet others and gain valuable leadership skills.  Remember, MCC is your college. Make the most out of your experience, achieve at a high level, utilize the resources available, get involved, make a difference, and succeed at all your academic endeavors.
Welcome to the MCC family and GO Bighorns!
Stacy Klippenstein, EdD, President
---
History
Mohave Community College (MCC) is a comprehensive community college located in Mohave County, in the northwest corner of Arizona. Mohave County, the fifth largest county in the United States, includes portions of the Grand Canyon and the Colorado River, and it borders California, Nevada, and Utah. The college service area is approximately 13,311 square miles with a population of slightly more than 200,000 residents (U.S. Census 2010).
Mohave Community College was established as a county college by a vote of the people in October 1970. Recognizing the vastness of the service area, the first Board of Governors made a commitment to establish three main campus sites. In June 1971, J. Leonard and Grace Neal donated 160 acres of land in Kingman where the college's first facilities were developed. The college then began operating out of temporary facilities in Lake Havasu City and Bullhead City. In 1972, land was acquired through the Bureau of Land Management for the development of facilities in Bullhead City; in the same year, the Lake Havasu City Campus was developed on the site of an old printing facility that was purchased by the college.
In the early years, MCC courses were occupational in nature, but soon the college began developing academic programs, including university-transfer courses. In 1974, Mohave Community College's plan for integration into the state system was signed into law, and the college became part of the Arizona State System of Community Colleges. 
In 1981, MCC received full accreditation from the North Central Association of Colleges and Schools (NCA); during the following year, the college received accreditation of its associate degree nursing program. In 1988, the college expanded its telecommunications system to the North Campus in Colorado City, which connected the northernmost section of the county to the three southern campuses. Colorado City is located on the Arizona-Utah border on the north rim of the Grand Canyon. This area, referred to as the "Arizona Strip," includes 7,800 square miles of land and a sparse population that was, for most of its history, cut off from the rest of the state and county. The difficulty of access created by the Grand Canyon was bridged by the advent of telecommunications, which made access to post-secondary education possible for every resident in the entire county.
---
Campuses

Bullhead City is a popular river community located along more than 10 miles of the Colorado River, which attracts a large summer population of boating and water-sport enthusiasts. As the city with the largest land mass in the county, Bullhead City's 59 square miles include a range of housing from exclusive residential developments to riverside mobile home and RV parks where visitors from the northern states and Canada reside during the winter.
Located on the borders of California and Nevada, Bullhead City is driving distance from many national attractions including the Grand Canyon, Hoover Dam, and Las Vegas, Nevada. Bullhead City's residents and visitors enjoy year-round sunshine and short-sleeves weather, but the arid desert climate does range dramatically depending on the season. Summers can include days as hot as 110°F while winter days range between 65-75°F. Winter nights can approach freezing temperatures, and summer heat waves have reported temperatures over 120°F. Spring and fall seasons are the most popular when the temperatures are comfortable and outdoor activities including golf, motorcycling, sports, jet-skiing, fishing, and boating can be enjoyed.
The Bullhead City campus houses a library and a computer center, as well as the state-of-the-art Legacy II building that is home to the Radiologic Technology program and the Emergency Medical Technician program. This building includes state-of-the-art biological science facilities including an autoclave. The Legacy I building houses a clinical lab and classroom facility to support the Dental programs, as well as the Nursing program. Both buildings were funded by the Baptist Hospitals and Health Systems (BHHS) Legacy Foundation, a local philanthropic foundation that supports many expansion projects on the Bullhead City campus. Other programs unique to the Bullhead City campus are the Automotive Collision Technology program and the Culinary Arts program.
---

Kingman is the Mohave County seat and has an area population of more than 50,000 residents within its 30 square miles of arid desert and mountains. Located on historic Route 66, it is the gateway to the Grand Canyon, Flagstaff, Hoover Dam, and Lake Mead. With excellent nearby outdoor resources including 1,000 miles of freshwater shoreline, 8,000-foot-high Hualapai Mountains, wilderness areas, and historic mining camps, there are choices galore for outdoor buffs, including hunting, fishing, hiking, and wildlife observation. Kingman's elevation, at 3,336 feet, provides an ideal southwestern climate that is neither too hot nor too cold. Summer days hover around 100°F and winter days range between the mid-50s to the lower 60s; however, winter nights have been known to fall below freezing temperatures and snow flurries occasionally create a beautiful, if short-lived, winter scene.
Kingman has a rich past that is colored with gold, silver, copper, and turquoise. The area's mining history draws people from all corners of the world. Kingman's history includes a significant contribution to the war efforts during World War II when the Kingman Army Airfield, a U.S. Army Air Force (USA-AF) airfield, was founded as an aerial gunnery training base. More than 35,000 soldiers and airmen were trained in Kingman until after the war when the airfield served as a model reclamation site for obsolete military aircraft.
The Kingman campus features a Welding Technology facility and science laboratory. In addition, many of the college-wide services and administrative offices are located on this campus. A few miles from campus, near the healthcare hub of the community, the Detroit Avenue Center was built by the MCC Foundation on land donated to MCC by the late Dr. John Lingenfelter and his wife, Diana, to support the Nursing program. The facility includes technology-enhanced classrooms, an interactive television classroom, a nursing lab, and a simulation lab featuring SimMan® and SimBaby®. In 2016, MCC unveiled its new technology savvy facilities with a state-of-the-art student services center and renovated campus center which includes upgraded classrooms, library, Student Success Center, and one of the largest community multi-purpose rooms in Kingman.
---

Home to the world-famous London Bridge, Lake Havasu City is both a water-lover's paradise and a desert-lover's dream. Founded in 1964, the 42-square-mile city was incorporated in 1978 and now has a population of 55,000. With more than 350 days of sunshine per year, Lake Havasu City is ideal for golf, boating, and desert tours. Lake Havasu City features exceptional water sports, including fishing, skiing, kayaking, and house-boating. Lake Havasu City is also a popular "spring break" destination for university students from all over the nation; it has been featured during MTV's Spring Break coverage twice. The city also hosts many sporting events from the International World Jet Ski Final Races to the Western Winter Blast pyrotechnics convention.
The Lake Havasu campus is home to the Hodel Library that is open to the public. Students and faculty alike enjoy the variety of campus art and science installations including one dedicated to the study of Mohave County geology. The campus's science facility supports a respected science department where faculty and students engage in active research projects in and around the Lake Havasu area and an Industrial Technology and Art building that houses both HVAC and Welding programs as well Art, Lapidary and Silversmithing. Program offerings in the health professions include Emergency Medical Services, Medical Assisting, and Nursing.  Also included are two programs that are unique to the Lake Havasu City campus, Physical Therapist Assistant and Surgical Technology. All have industry standard laboratories where students can practice utilizing the same equipment, tools and instruments that are currently being used in hospitals and health care facilities.
---

The North Mohave Campus is located in Colorado City, adjacent to Hildale, Utah, its twin city across the border. Located on the Arizona-Utah border in what is called the "Arizona Strip," Colorado City is a gateway to the stretch of unspoiled land separated by the Colorado River's Grand Canyon and the state of Utah. Colorado City has a four-season climate with low temperatures in the 20s and high temperatures around 90°F in the summer. Its elevation above 5,000 feet provides opportunities for residents to enjoy winter sports including downhill and cross-country skiing. Summer days are perfect for hiking the Vermillion Cliffs while other nearby local attractions provide insights to the local history and culture. The Arizona Strip outside of Colorado City offers access to many natural wonders, attractions, and outdoor activities, and is favorably located near St. George, Utah, near both Zion and Bryce National Parks.
The North Mohave Campus provides area residents with a broad range of general education courses that articulate to area colleges and universities. The Nursing, Elementary Education, and Fire Science/EMT programs are particularly robust and many students opt to complete their coursework using innovative technologies including a face-to-face interactive video classroom.
---
Mission, Goals, Values, and Vision Statement

Mission Statement: MCC serves our communities, empowering students to succeed through innovative pathways and quality education.
Goals: Mohave Community College strives to provide high quality, affordable and accessible higher education to all who seek it. Educational: Support an academic learning-centered community through implementation of quality teaching initiatives, professional development, integration of learning technology, development of partnerships, delivery of effective student support services, and by providing accurate information and advising. Cultural: Become a conduit between businesses, organizations, foundations and the arts to strengthen understanding of the world through education. Civic: Promote active citizenship within the college community. Resources: Provide resources needed to achieve the mission and vision.
Value Statements:
Create the Future: We cultivate relentless curiosity in our students and each other to unlock new opportunities and break barriers. We take risks, adapt to oncoming challenges and opportunities, and engineer new ideas as we learn together from our mistakes and successes.
Engage Fearlessly: We bring passion and energy to our work by dreaming big, being bold, having fun, and fostering a caring environment. Celebrating each other and our results with enthusiasm makes our work meaningful and exciting.
Build Together: Our individual differences and backgrounds strengthen our teams, where we seek input and ensure every voice is heard. We amplify our impact when we empower each other to take ownership and work together toward common vision.
Live Authentically: We are at our best when we share information openly, create clarity, invite stakeholders to participate in decision-making, and communicate with utmost respect.
Vision Statement: Improving lives. Improving communities. Bridging possibility to purpose and prosperity.
Bighorn Intrepid Goal (BIG): All adults who have not yet completed a post-secondary degree will be inspired to attain the credential, certificate, or degree they seek from Mohave Community College by 2030.
Student Experience Statement: Mohave Community College aims to provide an inspiring education exemplified by clear pathways as a stepping stone to completion, transfer, or post-college success.
The Student Experience will be characterized by:
a welcoming community that promotes discovery, confidence, and belonging;
relevant programs and courses that ensure preparation for the real world and the future;
personalized and inviting services that support students in person or online; and 
rewarding relationships with knowledgeable and committed faculty and staff.
Faculty, Staff, and Administration will support this experience with:
flexible academic programs and class schedules designed to meet students' needs;
a comprehensive new student orientation that helps students easily navigate college processes and resources and enter a pathway;
seamless services that provide timely assistance for students' academic and non-academic needs;
proactive and compassionate academic advising and outreach; and
innovative use of technology and teaching practices leveraged to deliver dynamic and engaging learning experiences.
Accreditations
Mohave Community College is a fully accredited member of the Higher Learning Commission (HLC), 230 South LaSalle Street, Suite 7-500, Chicago, Illinois 60604-1411, 800.621.7440 or 312.263.0456; email: info@hlcommission.org. MCC has been accredited since 1981. Accreditation is renewed every 10 years, and MCC is recommended for accreditation through the 2022-2023 academic year. If you have a question regarding institutional accreditation, please contact the Accreditation Liaison Officer in the Center for Teaching and Learning.
The Mohave Community College Dental Hygiene Program is accredited by the Commission on Dental Accreditation (CODA). The Commission is a specialized accrediting body recognized by the United States Department of Education. The Commission on Dental Accreditation can be contacted at 800.232.6108, or at the American Dental Association, Commission on Dental Accreditation, 211 East Chicago Ave., Suite 1900, Chicago, IL 60611-2678.
The Mohave Community College AAS Nursing Program including advanced placement options is accredited by the Accreditation Commission for Education in Nursing, 3390 Peachtree Road NE, Suite 1400, Atlanta, Georgia 30326, 404.975.5000, Fax 404.975.5020. The Registered Nursing Refresher, Nursing Assistant, and Practical Nursing programs are approved by the Arizona State Board of Nursing, 1740 W Adams St., Suite 2000, Phoenix, AZ 85007, 602.771.7800, Fax 602.771.7888. The Assisted Living Caregiver Program is approved by the Board of Examiners of Nursing Care Institution Administrators and Assisted Living Facility Managers (NCIA), 1740 W Adams St., Suite 2490, Phoenix, AZ 85007, 602.364.2273, Fax 602.542.8316.
The Mohave Community College Paramedic program is accredited by the Commission on Accreditation of Allied Health Education Programs (CAAHEP), (www.caahep.org), 9355 113th St. N, #7709, Seminole, FL 33775, phone 727.210.2350, in conjunction with the Committee on Accreditation of Educational Programs for Emergency Medical Services Professions (CoAEMSP) located at 8301 Lakeview Parkway, Suite 111-312, Rowlett, Texas 75088, 214.703.8445, Fax 214.703.8992. The Mohave Community College Paramedic and Emergency Medical Technical programs are certified by the Arizona Department of Health Services Bureau of Emergency Medical Services, 150 North 18th Ave., Suite 540, Phoenix, AZ 85007, 602.364.3150. The Mohave Community College Paramedic Program is accredited by the Commission on Accreditation of Allied Health Education Programs upon the recommendation of the Committee on Accreditation of Educational Programs for the Emergency Medical Services Professions (CoAEMSP). 
The Mohave Community College EMS program (EMT and paramedic education) are approved and authorized by:Arizona Department of Health Services, Bureau of Emergency Medical Services
150 North 18th Ave Suite 540, Phoenix, AZ  85007 Phone: 602.364.3150 and the Bureau of Emergency Medical Services and Preparedness  https://bemsp.utah.gov/; Utah Department of Health, PO Box 142004, Salt Lake City, UT 84114-2004, 288 N 1460 W, Salt Lake City, UT 84116, Main Phone: (801) 273-6666, Toll Free: 1 (800) 284-1131
The Physical Therapist Assistant Program at Mohave Community College is accredited by the Commission on Accreditation in Physical Therapy Education (CAPTE), 3030 Potomac Ave, Suite 100, Alexandria, VA, 22305-3085; telephone: 703.706.3245; e-mail: accreditation@apta.org; web site: www.capteonline.org. If needing to contact the program/institution directly, please call 928-505-3347 or email ebriere@mohave.edu.
The Mohave Community College Radiologic Technology program is accredited by the Joint Review Committee on Education in Radiologic Technology (JRCERT). The Radiologic Technology Program currently holds a 5-Year accreditation with the next scheduled JRCERT Site Visit of 08/2022.For information contact JRCERT at 20 N. Wacker Drive Suite 2850, Chicago, IL 60606-3182, 312.704.5300, Fax 312.704.5304; email: mail@jrcert.org.
The Mohave Community College Substance Abuse Counseling program is accredited by the National Addiction Studies Accreditation Commission,
44 Canal Center Plaza, Ste 301,Alexandria, VA 22314, e-mail info@nasacaccreditation.org, 703.741.7686, Fax 703.741.7698
The Mohave Community College Surgical Technology Program is accredited by the Commission on Accreditation of Allied Health Education Programs (CAAHEP), 9355 113th St. N, #7709, Seminole, FL 33775, 727.210.2350, in cooperation with the Accreditation Review Committee on Education in Surgical Technology and Surgical Assisting (ARC/STSA), 19751 East Mainstreet, Suite #339, Parker, CO 80138, 303.694.9262, email: info@arcstsa.org
---
General Education Philosophy
Mohave Community College's general education emphasizes breadth of knowledge and academic skills to complement the depth of knowledge students will acquire in their individual majors. The general education curriculum at MCC is designed to provide students with the following:
Aesthetic Sensibilities: An awareness of creative expression in the world around us.
Communication Skills: The ability to effectively convey meaning through various media on both personal and professional levels.
Critical Thinking Skills and Problem-Solving: The ability to analyze data and arrive at logical and defensible conclusions.
Cultural Diversity and Global Awareness: Recognition of relationships and differences in values, customs, and norms of diverse global communities.
Techniques of Inquiry: The ability to use standardized methodological framework to collect, analyze, interpret, and present findings.
Technological Competency: A proficiency in utilizing technology on both personal and professional levels.
---
Equal Opportunity Policy Statement
Mohave Community College does not discriminate on the basis of race, color, ethnicity, religion, sex, national origin, age, mental or physical disability, sexual orientation, gender identity or expression, or veteran status or any other legally protected class in any of its policies, practices, or procedures, and is an equal opportunity employer.  For more information, contact the Human Resources Office at 928.681.5624, 1971 Jagerson Ave., Kingman, AZ 86409. Grievance procedures are available at the Mohave Community College libraries in Bullhead City, Colorado City, Kingman, and Lake Havasu City.
---
Americans with Disabilities Act (ADA) Statement
Mohave Community College strives to facilitate, within reason, appropriate resources, services, and auxiliary aids to allow each qualified person with a documented disability equitable access to educational programs, social experiences, and career opportunities. The Executive Director for the Center for Teaching and Learning, Danette Bristle, 3400 HWY 95, Bullhead City (928) 704-9480 and Director of Employee Services, Jennifer Picard, 1971 Jagerson Ave., Kingman (928) 681-5624, shall act as ADA coordinators for the College to oversee compliance in the areas of facilities, student accommodations, and employment practices.
---
Anti-Discrimination Policy Statement
Mohave Community College does not discriminate on the basis of race, color, ethnicity, national origin, gender, sex, age, religion, gender identity, gender expression, disability, or sexual orientation in its educational programs and activities or  employment practices.
Discrimination includes harassment, which includes a wide range of abusive and humiliating verbal or physical behaviors that are directed against a particular person or persons because of one of the above named qualities. This includes creating a "hostile  environment" where the conduct is sufficiently severe or pervasive to alter the conditions of the person's employment or educational experience at the College. Members of the College community have a responsibility to report discrimination and those in supervisory roles are obligated to take action to correct it. Any person found to have violated this anti-discrimination policy will be subject to appropriate disciplinary action.
For further information on campus safety or a complete list of the Title IX team, visit: www.mohave.edu/about/safety.
For inquiries about this policy contact:
Danette Bristle (Title IX and ADA Coordinator)
Exec. Director for the Center for Teaching and Learning
3400 Highway 95, Bullhead City, AZ 86442
dbristle@mohave.edu
928.704.9480 (w), 928.542.6920 (m)
---
 Drug-Free Schools and Communities Act Amendments
Mohave Community College is committed to the Drug Free Schools and Communities Act Amendments of 1989 (Public Law 101-226, 20 U.S.C. §1145g). The unlawful possession, use, or distribution of illicit drugs and alcohol by students and employees is prohibited. Violating or failing to comply with published rules and regulations of conduct on college property or during a college activity and/or being under the influence of, using, selling, possessing, or distributing any illicit drugs or alcohol on college property or as part of any of its activities is subject to disciplinary action.
Additionally, local, state, and federal laws prohibit the unlawful possession, use, or distribution of illicit drugs and alcohol. Conviction for violating these laws can lead to imprisonment, fine, probation and/or assigned community service. Students convicted of a drug- and/or alcohol-related offense will be ineligible to receive federally funded or subsidized grants, loans, scholarships or employment.
Mohave Community College fully subscribes to and cooperates with the local, state and federal authorities in the enforcement of all laws regarding the unlawful possession, use, or distribution of illicit drugs and alcohol. For more information, see the Drug-Free Schools and College Prevention Program webpage.
---
Campus Safety
As required by the Jeanne Clery Disclosure of Campus Security Policy and Campus Crime Statistics Act, MCC files a statistical report each year on all criminal activity that has occurred on and around MCC campuses. In addition, the Clery Act requires MCC to disclose statistics on crimes committed on and near its campuses for the previous three years. As the report indicates, MCC campuses have been exceptionally safe in recent years. MCC has also implemented a college-wide crisis plan, as well as plans for each campus that outline procedures for how MCC administrators, staff, and faculty should deal with potential emergencies. MCC takes additional steps to ensure student safety by employing night security guards and part-time administrators on each campus to handle any emergency situations that may arise for faculty or students between the hours of 5 p.m. and 10 p.m. For more information, see the Campus Safety webpage and MCC Crimes Statistics Report.